Kerala Tourism is overwhelmed by the festivals of Kerala. Because of these festivals, Kerala witness huge crowd loaded with tourists every year. The festivals are very colorful. People love to celebrate these colorful festivals. These festivals are not only very colorful one, at the same time these are very heart touching with music.  The festivals show the rich art and culture of Kerala. The festivals are the evidence of Kerala's rich tradition indeed. In every year, a huge number of people gather to celebrate the vibrating and colorful festivals.
Here's list of most popular festivals in Kerala:
Boat Festival
Celebrate during : July-September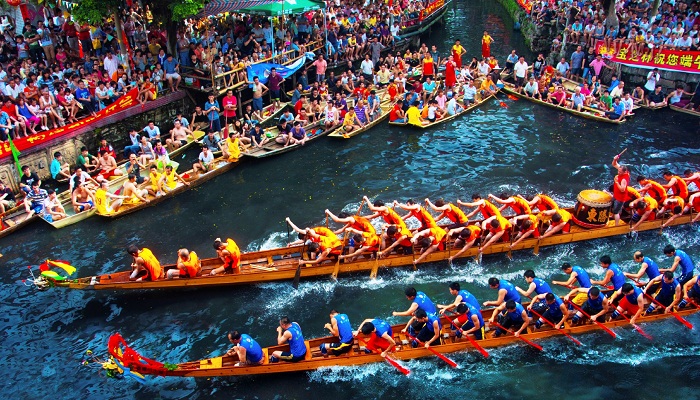 Boat festival is one of the prominent parts of Kerala Tourism.  There are many tourist places in Kerala. Kerala is very famous for this festival. In boat festival, people use to participate in boat riding and they enjoy. In this festival their team spirit is noticeable. It is the main highlight of Kerala. You can enjoy Kerala backwater tour packages.
---
Onam
Celebrated between August and September

Onam is one of most famous festivals of Kerala. All the citizens enjoy this festival. It is celebrated once in a year. Basically, Onam is a harvest festival. Although it is a renowned Hindu festival, people of different caste use to celebrate it with great joy. This festival continues for ten days. Onam is celebrated between August and September. In this time people enjoy the festival along with the frizzy rain as it is held at the time of monsoon. The Kathakali dance, boat races, and songs are part of this popular festival. It is the festival for which Kerala Tourism is becoming very popular. There are holiday packages in Kerala. It is celebrated to mark the homecoming of a king named Mahabali who was an ancient king of Kerala. The time of King Mahabali was thought to be the golden era of Kerala.
---
Maha Shivratri

Celebrated in the months of February-March which is known as the month of Kumbham
This festival is celebrated in Kerala to a great extent. It is religious festival celebrated by Hindus who worship Lord Shiva in this time. There remains dry weather in this time. People used to fast for Lord Shiva and after that people use to enjoy various dance performance. You may enjoy the travel packages for Kerala.
---
Attukal Pongala
Celebrated during : February or March
In this festival people use to worship Goddess Attukal Devi whose temple is located near Thiruvananthapuram. In this festival, the huge number of people gathers in Kerala. This festival is considered to be the largest congregation of female in the world. People use to celebrate this festival without remembering their religion. This is the festival for which Kerala Tourism is growing up.
---
Thrissur Pooram
Celebrated during : April
It is a famous festival of Kerala and is celebrated at Vadakkunnathan Temple in Thrissur. The elephants are a major attraction in this festival. This festival involves music and color. In this festival, people use to worship Lord Shiva. Kerala Tourism is enjoyed by the people because of this festival. You may get different packages for Kerala trip.
---
Temple Festival
Celebrated during the months of February-April or May
The elephants, music, and fireworks are the major attractions of Temple festival. Kerala Tourism has become very popular for this temple festival.  You can choose the best Kerala tour packages. In this festival, people can enjoy the several dance performances. The festival is celebrated in the several ancient temples of Kerala, namely:
Lokanarkavu Utsavam in Kozhikode

Chittur Konganpada in Palakkadu

Sree Padmanabha Swami Temple in Thiruvananthapuram
You must plan for a travel tour to Kerala during these festivals and witness the enriched and devoted culture of Kerala.
---
Month-wise Festivals of Kerala
| | |
| --- | --- |
| Festivals | Month of Celebration |
| Onam | August and September |
| Maha Shivratri | February-March |
| Attukal Pongala | February or March |
| Boat Festival | July-September |
| Thrissur Pooram | April |
| Temple Festival | February-April or May |